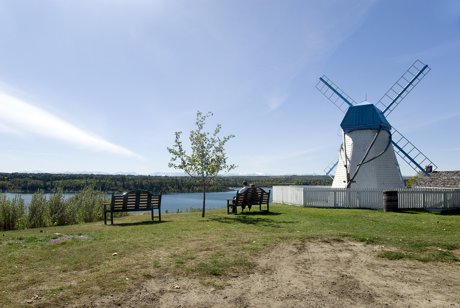 Blast back into the past on Calgary real estate at Heritage Park Historical Village. Exhibits feature historic buildings and homesteads dating from the 1860's through the 1950's. One of the largest living history museums in Canada over a hundred acres of adventure awaits. Many meander about the grounds without a road map. Others prefer to grab a self guided tour guide complete with facts and trivia about the buildings. Informational brochures make trips more enlightening and come in seven languages.
Generations Living in Calgary Have Left Their Mark
Hop on an authentic steam train and get going. Disembark at Midnapore Station to explore Heritage Square. Vintage automobiles are parked in style in the Gasoline Alley Museum. Nearby on Prospect Ridge the 1920's Bruderheim Windmill is in full motion. Stepping off at Laggan Station guests experience The Ranch and The Settlement. At The Ranch folks find the Burnside Ranch House and Nightingale Colony House as well as rodeo grounds. There's a lively vibe in The Settlement at Drew's Saloon and Stopping House. Also found here is the Hudson Bay's Company Fur Trading Fort and McVittie Cabin. Toes are tapping back at the Shepard Station. Dancers get their groove on in the 1910 Didsbury Bandstand. Kids are calling out for more homemade ice cream and other desserts in the Vulcan Ice Cream Parlour. Claresholm General Store holds treats of its own with shelves stocked with a variety of colorful candies.
The park stays true to their mission of "connecting people with the settlement of Western Canada and preserving culture and heritage." Educational programs delve deeply into the history of the region. School programs benefit both educators and students living in Calgary. Curriculums are designed for youngsters from kindergarten to high school. Adults can increase their own knowledge also. Popular themed workshops include gardening, cooking, quilting, brewing and spinning.
With so much to do on this piece of Calgary real estate plan for a full day's visit. Take a sneak peek at the map ahead of time to learn all about the historic properties and daily activities. Simple memories are long lasting. Bring the whole family out to Heritage Park Historical Village and soak up some history while having some fun.