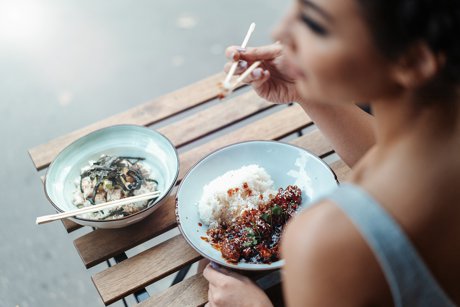 Taste sensations await on Chinatown real estate. Area restaurants provide a diverse array of meals representative of China, Hong Kong, Japan and Vietnam. Foodies walk the walk finding their way into one delicious establishment after another.
Folks journey back into history when stepping into the Silver Dragon. Established in 1966 this iconic property proudly bears the title of the oldest restaurant in the neighborhood. An amazing menu features a variety of Catonese and Szechuan selections sure to make mouths water. Found in the heart of Chinatown the Silver Dragon is family owned and operated. Appetizers start the meal off right with Chinese noodles and soups. Main dishes vary from seafood, fish and beef. Tantalizing vegetarian and tofu creations are palate pleasing as well. Critically acclaimed, the Silver Dragon has earned multiple awards over the years including Best of Calgary 2018.
Stomachs Rumble on Chinatown Property
Peking-Style cooking is true to form over at the Silver Inn. Authentic cuisine fills an extensive menu including sizzling rice, Mu Shu, beef, pork, seafood and poultry. And, while lots of tasty dishes find their way out of the kitchen here, this Chinatown property is also rumored to have invented the wildly popular ginger beef. Many find it hard to choose between two specialties of the house, Peking duck or chicken Shan Tung style.
When stomachs rumble late at night, the hungry head on over to the U and Me Restaurant. Open all night long, talented chefs prepare amazing food with Dim Sum being served all day. Families gather round the table for dinners set especially for four, six, eight or ten. Everyone is pleased with the combination of dishes placed before them. Steaming entrees include beef with black bean sauce, palace style shrimp, salt and pepper squid and more.
Don't forget dessert. Those with a sweet tooth step into the Chocolate Lab. In this space delicate desserts are picture perfect. Taste buds of even the most determined of dieters are tempted. Only the finest and freshest ingredients are crafted into high quality candies in the lab. Tasty bonbons and truffles have earned quite a following far and wide. Many pieces are award winning including the Orange Dreamsicle, Lemon Yuzu Passion and Lychee Rose.
Chinatown real estate is in the business of satisfying cravings. The region's restaurants and eateries provide an array of Asian cuisine perfect for everyone. Meander through the neighborhood and find a new favourite place or two to eat.